You are here:
Home
/
Art Development
Guest Artist Programme
Leisure Square Programme is held every Saturday in monthly basis. The programme starts at 8.30 pm – 11.30 pm at Laman Beringin Istana Budaya. This programme which will feature stage presentation and painting demonstration is handled by Istana Budaya with the collaboration with Balai Seni Lukis Negara (National Art Gallery). One of the activities initiated by Balai Seni Lukis Negara will be the exhibition of paintings, portraits, and painting and caricature demonstrations by the artists.
Istana Budaya also invites a few prominent local artists / painters and the artists of the Istana Budaya itself to cheer the programme. The artists from the Istana buday will perform a few traditional dances which represents different races and cultures. Publics are welcomed to come and cheer the programme.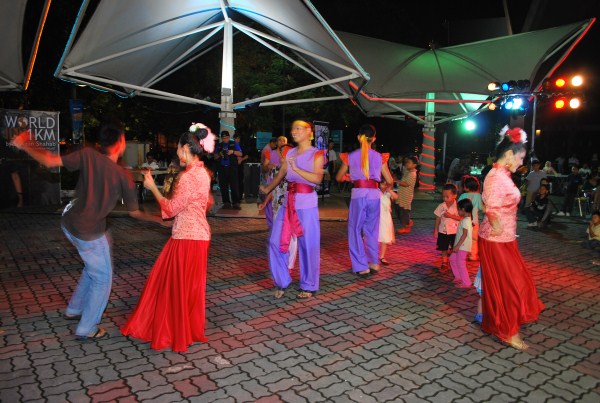 Art Sponsorship Fund
INTRODUCTION
Aims / Purposes
The memo is aiming on providing a guideline for the Art Charity Fund or Tabung Bantuan Seni (TBS) as a channel in handling all the sponsors and financial contributions which worth RM 500,000.00 (Ringgit Malaysia Five Hundred Thousands) received from the Dasar Baru 2008 Balai Seni Lukis Negara.
Background
2 .1 Since the beginning, Balai Seni Lukis Negara has proved its ability in the emergence of art in this country by initiating numerous manifestations of arts among the mass through many activities initiated with other parties outside the agency. Through the years, there have been countless awards and financial contributions given as an effort in flourishing the art industry in this county.

2.2 It is informed that outsiders be it individual or group, can carry out any programme such as competition, camps, presentations and exhibitions by using the money from the fund. There were a few programmes selected such as 1990s: Pekan Seni Ipoh, Malaysian Video Awards, Cameronian Arts Awards, Pameran Solo Pelukis outside the BLSN ( Sharifah Zuriah in Adelaide, Eric Peris in Sutrahouse, Normah Nordin in Wetlands Putrajaya, Khalil Ibrahim in Galeri Petronas, etc.)

2.3 Financial  contributions cost and category has been receiving;
2.3.1  Contributions to the artists who are wishing to launch a solo exhibition. The contributions are in forms of setting-up services, catalogues productions and other side costs which is estimated to be around RM 5000- RM 15 000.
2.3.2  Contributions to the artists who will representing Malaysia in the international festivals, forums and other events. The contributions are in the forms of sponsors of ticket, accommodation and transportation fees, with some allowances which is estimated to be around RM 5 000 – RM 30 000.
2.3.3  Contributions to the bodies of NGO in forms of grant, tangible rewards, and awards which is estimated to be around RM 10 000 – RM 50 000.

2.4 Successes of any events were backed up by a strong source of financial supports, and a continuous commitment. The supports and the commitment showed by the Balai Seni Lukis Negara and the involvement of the NGO bodies are vitally needed in order to help our local artists to keep on producing great masterpiece and stay active in the art world.

Objectives  of the endowment methods
3.1  Realizing that most of the donations and contributions involved a big sum of money which most often than not channelled unsystematically from the allocation allocated for the Management and Finance Division, the Exhibition Unit, and Education Units has resulted in unbalance financial state in the agency.; Therefore, it is very crucial to re-examine the methods of endowment and contributions.
3.2  Due to the rise of the demand for sponsorships, it is reasonable to come out with a proper and systematic method in channelling the sponsorships.
3.3  To maintain the good image and credibility of the agency in the effort of thriving quality arts as well as to help the artists to promote their artworks internationally.
Principles in the  TBS Materialisation
4.1  Fundamentals and Concepts of TBS
The agreement in making the concept of "Program Ruang dan Peluang" (Floor and Opportunity Programme) into reality as a platform for the artists and the public to  materialise their dream and interest, in order to take our art industry one step forward.
4.2  Fraction of the fund allocations RM 250 000.00 which is two-fourth of the whole amount of the TBS will be allocated for the exhibition sponsorship and International participation purposes, while one-fourth which is about RM125 000.00 for the Bantuan Geran Pendokumentasi / Art Research, and another one-fourth which is RM 125 000.00 for the Art Development Programme in the rural areas.
4.3  Fund Administrations The preparation and materialisation of the agenda needs an efficient mechanisme. Hence, it is vital to come up with a committees or Sponsorship Analyst Team/Panels.4.4  The Research and Development Division will be responsibled as the secretariat  committees.
Artist At Work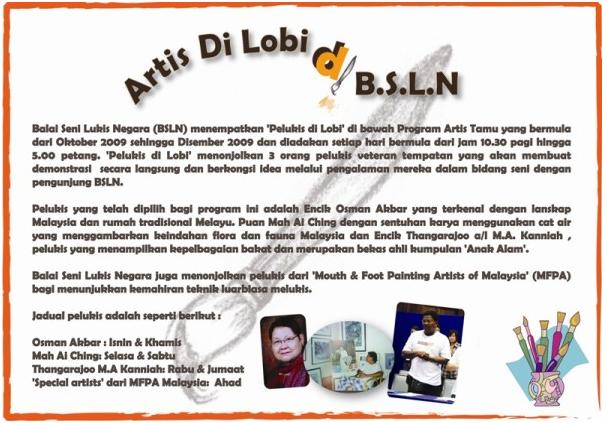 The National Art Gallery (N.A.G)  presents  the 'Artist At The Lobby' programme,  beginning daily from 10.30 am- 5.00 pm  starting in October until December 2009 and located at the lobby of the National Art Gallery.  'Artist At The Lobby' features 3 local veteran artists who will demonstrate live painting and share their ideas and experiences with members of the public and art lovers.
The artists selected specially for this programme are Mr. Osman Akbar, renowned painter of traditional Malay houses and Malaysian landscapes, Madam Mah Ai Ching, who is known for her exquisite watercolours of Malaysian flora and fauna and Mr. Thangarajoo M.A Kanniah, multi disciplinary artist and a former member of 'Anak Alam'.
Also, the National Art Gallery features special guest painters from the 'Mouth and Foot Painting Artist of Malaysia' (MFPA) to showcase their works with unique techniques.
Below is the schedule of the artists:
Osman Akbar : Mondays & Thursdays
Mah Ai Ching : Tuesdays & Saturdays
Thangarajoo M.A Kanniah : Wednesdays and Fridays
Special artists from MFPA Malaysia :  Sundays
Art Membership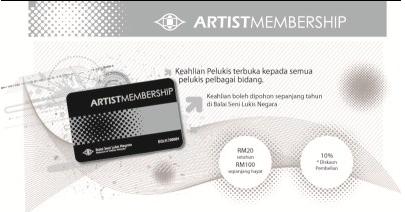 Artists with membership will enjoy attractive benefits as follows :
Invitations to attend opening ceremonies of exhibitions, participate in special programmes, workshops, talks and events  by the National Visual Arts Gallery.
Enjoy a *10% discount on most of the items in the Gallery Shop including drawing materials, publications and souvenirs.
Receive thelatest information via SMS.
Receive National Visual Arts Gallery Newsletters SENIKINI: Malaysia Art Now, free for one year (six issues).
Name and address of the artist will be included in the artists' directory network of the National Visual Arts Gallery website.
Membership is open to all artists from various fields. Membership can be applied throughout the year at the National Visual Arts Gallery. The registration fee for one year is RM 20.00, while a lifetime membership is RM100.00. Payments can be made by cheque / bankdraft / money order made payable to the National Visual Arts Gallery. Click here to obtain the registration form and submit to :
National Visual Arts Development Board,
No. 2, Jalan Temerloh
Off Jalan Tun Razak,
53200 Kuala Lumpur.
Or for any further information, please contact :
Encik Tan Sei Hon (Curator, Arts Development Branch)
Cik Hartini Yajid (Assistant Curator)
Cik Wan Faizun ( Assistant Curator)
Telephone : 03-4026 7000
Fax : 03-4025 4987
Art Cabin /Wakaf @ NVADB
Art Cabin
The art cabin was first initiated to offer selected artists a condusive space to develop their art works.  The art cabin which begun since the year  2008 is in conjunction with the guest artist program to encourage artists in producing art work, while creating attention of visitors and stimulating the curiosity in them while visiting the national visual arts gallery (NVAG).
The art cabin was made available to young artists in their early days of their career thus creates the potential of art with the participation of ne talents or the young artists. The artists in the art cabin will demonstrate and present their skills interactively and provide direct guidance to the NVAG's visitors. Visitors are welcomed to enter the art cabin free of charge to interact with the artists. Art work produced in the art cabin will be exhibited and are for sale.
For more info :
Networking and Education Division
Urusetia Program Peti Seni BSVN,
Cawangan Pembangunan Seni,
Balai Seni Visual Negara,
No. 2, Jalan Temerloh,
Off Jalan Tun Razak,
53200 Kuala Lumpur.
Phone : +603 4026 7000 | Fax : +6 03 4025 4998
Wakaf Balai Seni Visual Negara
Wakaf BSLN hosts a number of self taught artists specializing in various styles and mediums. Their unique approaches to art-making are both refreshing and entertaining. Each day, two to three artists will demonstrate and display their artworks for the public's viewing pleasure. The works are for sale and they make wonderful gifts for friends and loved ones. Feel free to talk and mingle with our artists at Peti Seni and Wakaf Seni.
Placement Programme in Art Cabin
National Art Gallery (BSLN) is inviting painters and visual artists in Malaysia to apply to produce their works in Art Cabin provided by BSLN.
The general terms and conditions for the applications are as follows:
Open to all visual artists who are Malaysian citizens aged 20 and above on the application date (please state your health problems / disabilities).
All applicants must be registered with Artist Membership BSLN. Preference will be given to those who are registered as lifelong members.
All application to Compose in Art Cabin Programme must be through application form provided by BSLN and enclosed with

A copy of identity card, AND
One curriculum vita (CV) or a biodata of the applicants.

BSLN reserved the right to reject any applications that does not comply with the terms stipulated and all decisions by BSLN are final.
Applicants must agree that the tenure for composing in Art Cabin BSLN is only 3 months. Applications to extend the period could be made in written form and subject to BSLN's discretion.
Successful applicants must agree to:

Donate one (1) of their best painting to BSLN at the end of the placement.
OR
Contribute their effort in any BSLN activities stipulated by the secretariat for free.

Successful applicants must always be ready to interact with BSLN's visitors.
Any arts produced during the tenure in Art Cabin can be sold.
Usage of Peti Seni space or equipments provided is free.
No allowance or any form of payment will be given during the tenure in Art Cabin
Interested painters and visual artists could obtain the application forms for Composing in Art Cabin Programme from the programme secretariat :
Networking and Education Division
Application for Artist Membership BSLN could be made from:
Completed forms must be returned to :
Urusetia Program Peti Seni BSLN,
Cawangan Pembangunan Seni,
Balai Seni Lukis Negara,
No. 2, Jalan Temerloh,
Off Jalan Tun Razak,
53200 Kuala Lumpur.
Tel : +603 4026 7000 | Faks : +6 03 4025 4998
Successful applicants will be informed through mail by the secretariat.
Application for this programme is open all year round.
BUSINESS HOURS
Address:
Lembaga Pembangunan Seni Visual Negara,
No. 2, Jalan Temerloh, Off Jalan Tun Razak,
53200 Kuala Lumpur
Phone / Fax :
+60 3-4026 7000 / 03-4025 4987
Daily
Monday-Sunday: 10 AM - 6 PM
9 AM - 5 PM (Ramadan working hours)
Hari Raya Aidilfitri holidays ( 2 days )
Hari Raya Aidiladha ( 1 day )

Visit Today : 183

This Month : 9730

Total Visit : 35350
Last update: 24 October 2018 at 09:45:57