Gallery 1A
Located on the first floor and is the largest exhibition floor. With the size of 1650 sq ft, this gallery is suitable to hold large exhibition for art painting, printing, sculpture, photography and installation. The area is equipped with controllable lighting system to create creative ambience. This gallery also houses exhibits and sculpture of famous artists.
Latest Exhibitions 2012: :
Sulalatus Salatin Exhibition
(10 May 2012 hingga 30 June 2012)

Current Exhibitions 2011: :
KONSEPTUAL
(9 October 2011 hingga 26 March 2012)

Kembara di Sarang Seni (2 December 2011)

Current Exhibitions 2010: :
'ABC = ANTARA BAHAN CAMPURAN'
(30 March 2010 – 16 January 2011)

Recent Exhibitions:
Susurmasa:Empayar Pelayaran (January – December 2008)
The Young Contemporary 2004 Malaysian Art Now

| | | |
| --- | --- | --- |
| Different Strokes | : | Diversity through Art 2 |
| Wavelines | : | Photographic Journey |
| Contemporary Art from China | : | Visual Expression through ink & paper |

1000 Faces of Mahathir Mohamad
Philip Morris Malaysian-ASEAN Art Awards 2003

*click picture to enlarge
Gallery 2A
Exhibition 2012 :
Photography Exhibition : Time and Now  (12 June – 02 September 2012)
Ceramic Art Exhibition  (27 March – 15 April 2012)
JAPAN Kingdom of Characters (20 February – 20 March 2012)
Previously Exhibition 2010 :
Zulkifli Yusoff 'Negaraku' (26 July 2010 – 26 Sept 2010)
Malaysian Artfriends (26 June 2010 – 20 July 2010)
Previously Exhibition 2009 :
Pameran Amal Palestin
Mosaics Of Malaysia (12 Jun – 31 Ogos)
Previously Exhibition:
Pameran Koleksi Saya: Rahimie Harun
Gallery 2B
Latest Exhibition 2012 :
LATIFF MOHIDIN (26 December 2012 – 13 June 2013)
Current Exhibition 2011 :
Md Sani Md Dom (21 December 2011 – 28 February 2012)
Pameran Seni Prof Li Chi Mao (26 September – 27 November 2011)
Menifestasi Merdeka (8 August – 18 September 2011)
Berehat (May – 12 June 2011)
Current Exhibition 2010 :
Zulkifli Yusoff 'Negaraku' (26 July 2010 to 26 Sept 2010)
Previously Exhibition 2009 :
Mosaics Of Malaysia (12 Jun – 31 Ogos)
Previously Exhibition :
Exhibition Koleksi Saya: Rahimie Harun (Okt – Dis 2008)
Footsteps
The Eyes of Wisdom
| | | |
| --- | --- | --- |
| Breath | : | Scultpures of Raja Shahriman |
| First Print | : | Early Prints from the Permanent Collection |
| | : | Cuban Contemporary Arts Exhibition |
| Lat | : | Retrospective Exhibition |
| A D Pirous | : | Words of Faith |
| | : | Saksi |
| | : | Dancing Up Country |
| | : | The Art of Dorothy Napangardi |
*click image to enlarge
Gallery 2C
Gallery 2C (Children)
The children's gallery is a gallery exhibiting artworks by children.
Among the activities carried out are:
1.    Find the Similarities – Selected Portrait Photography
The collection of 539 photography artworks is the collection of the National Visual Arts Development Board, presented as a gift by Dato' Loke Wan Tho in 1963, during his tenure as a member of the first  Board of Trustee of the National Visual Arts Development. A total of six portrait photography artworks were selected and exhibited at the Interactive Area of Gallery 2C.
2.    Kasihnya Ibu (A Mother's Love) Supplementary Exhibition
(April – June)
The Kasihnya Ibu (A Mother's Love) Exhibition is a special exhibition in conjunction with the 2011 Mother's Day. Among the interactive activities is the creation of ibuku (my mother) and anakku (my child) portraits, D.I.Y corner and I am a poet.
3.    The U-Wei Angkat Saksi Exhibition will be held in Gallery 2C
form 8 to 17 July 2011.
4.    The Sulaiman Esa Solo Exhibition  will be held at Gallery 2C
(1 October – December 2011)
5.   Main-main (At Play) Project (an interactive programme/project
in the form of soft sculptural installations)
from 11 November 2011 – 11  January 2012.
*click image to enlarge
Gallery 3A
 Exhibition 2012 :
LATIFF MOHIDIN (26 December 2012 – 13 June 2013)
Pertarungan Amron Omar (15 February – 27 August 2012)
Previously exhibition 2011 :
Wayang U-Wei Angkat Saksi ( 11 Julai – 5 September 2011)
Previously exhibition 2010 :
Pameran Alam Seni / The Art World of Cheng Haw Chien (28 Ogos 2010 – 17 Oktober 2010 )
Pameran ARTRIANGLE (7 Julai 2010  )
Previously exhibition 2009 :
Grafik Awal (28 March – 28 July)
Previous exhibition 2008:
Susurmasa (January – October 2008)
MALAYSIAN PHOTOGRAPHY: History & Beyond
Common Ground Tradition and Form REVIVAL : Evoking the Batik Tradition Recent Acquisition 2002 – 2003 Pictorial Transformations
| | | |
| --- | --- | --- |
| Water | : | The First Element |
| | : | Andean Cosmovision |
| ALAMI II | : | Puncak |
| | : | Dialogue With Nature |
*click image to enlarge
Gallery 3B
Measuring 208 sq ft, Gallery 3B is suitable for small scale display and experimental area for successful artists, locally and internationally.
Exhibition 2012 :
LATIFF MOHIDIN (26 December 2012 – 13 June 2013)
Pertarungan Amron Omar (15 February – 27 August 2012)
Previously Exhibition 2011 :
Wayang U-Wei Angkat Saksi ( 11 July – 5 September 2011)
Current Exhibition 2010 :
ARTRIANGLE Exhibition (7 July 2010)
Previously Exhibition 2009 :
Grafik Awal (28 March – 28 July)
Previously Exhibition 2008:
Susurmasa (January – December 2008)
Art Collaboration : Suara Jiwa
Recent Acquisition 2002 – 2003
Andean Cosmovision
ALAMI II  : Puncak
*click image to enlarge
Gallery REKA
Located on the 1st floor, this gallery provides facilities for display of photography, textiles, fashion, prototype, model, posters, architectural and instrument. The gallery has 36.52 meter wall, a 3.6 to 4.2 meter ceiling height and two mobile side panel measuring 2.44 meter x 1.22 meter. This gallery also feature Ultra Violet Filter.
Exhibition in 2012:
Cartoon Exhibition (26 May – 23 September 2012)
Saksi & Bukti (8 February – 7 May
Display Shown in 2011:
Batik (5 December 2011 – 31 January 2012)
Cahaya (26 October – 20 November 2011)
Yayadan:Syukur Selalu (15 August – 15 September 2011)
TABIK Tribute to Late Artist (26 April – 19 June 2011)
Back Then These Days (10 January – 13 March 2011)
Wilayah Pemberontakan #2 (18 March – 18 April 2011)
Display Shown in 2010:
KepadaMu Kekasih Exhibition ( 10 August 2010 – 20 September 2010 )
Seven Samurai: Malaysia Japan Video Art X Change 2010 Exhibition (20 July – 06 August 2010)
Abundant Australia Highlights from the 11th Venice Architecture Biennale (19 April -16 May 2010)
Display shown in 2009
KL Design Week (27 March – 4 April)
MRCB Exhibition (26 January – 31 March)
Display shown in 2008
Malaysian Batik Exhibition (December 2009 – January 2008)
Susurmasa Exhibition : Pre Historic (January – October 2008)
NORWEGIAN CONTEMPORARY GLASS (October – December 2008)
| | | |
| --- | --- | --- |
| | | |
| NORWEGIAN CONTEMPORARY GLASS 1 Exhibition | NORWEGIAN CONTEMPORARY GLASS 2 Exhibition | NORWEGIAN CONTEMPORARY GLASS 3 Exhibition |
* *click image to enlarge
Main Lobby
The main lobby is located at the first floor while the auditorium and the resource centre are located on the left. Resource centre provides information on arts for students and communities. It also has internet connection. Gallery 1 is at the right of the main lobby. It is suitable for big scale of display. There is also lifts and spiral stairs to go to floor 2 and 3.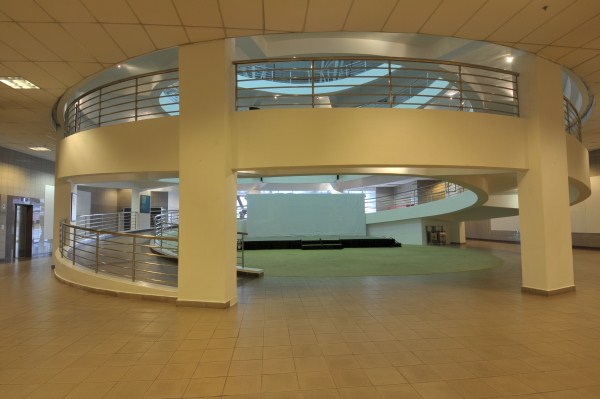 Click [here] for rental rates
Conservation Lab
Conservation Lab
Conservation has two methods of implementation i.e preventive conservation and curative conservation. To ensure safety and quality of a collection, the first method must always be given preference. This is because, this method does not require special skill or high cost but sufficient with responsible act and serious attention. The second method requires action by specialist and may require high cost to acquire special items that are not available in the country.
Preventive Conservation
A conservation act by ensuring safety condition, environment and collection are in good condition and within control. Environmental monitoring is necessary to endure temperature, lighting, moisture level, radiation control and pollution are always monitored and controlled. In addition, good surrounding also protect collection from deteriorating due to chemical factor, physical and destroying agents.
Curative Conservation
Restoration and preservation are involved in this method. The activities involved are cleaning the surface with dry and wet method, treatment, relining, in painting, consolidation and others. These works are carried out in the conservation lab by trained personnel assisted by special equipments and facilities that are designed for different type of collection and art objects. Paper on Photo Conservation from 'Man And his World' 1972-73, Sulaiman Hj Esa, DR.
Paper
Provide damage report on paper print items. A piece of printed paper that has historical and legal value that is important to mankind will be protected and handles carefully. What more if it is an original document or one and only copy and become damage due to time, surrounding and storing factors.
When this happen, what can you do when you are not an expert to preserve items such as this? No worries or afraid although you are just an ordinary administration assistant or housewife or counsellor an so forth. These steps if taken will help the early stage of the restoration process before helps arrive.
Step 1 – Physical Inspection
Carry out physical inspection on the items. You can carefully inspect if there are signs of folding, missing pieces or torn. Other sign such as fungus and moulds must also be inspected. It is also important to determine the fragility of the paper in order to estimate if the items can withstand movement or handling.
Step 2 – Make Note
All damage to the items must be noted on paper. You can plan the type of note to ensure clarity when sharing the information with other people.
Step 3 – Making Sketches or Taking Photo
If you are good at sketching, it is a bonus if a sketch of the artefact can be made especially highlighting the area of damage. If a camera is available it is better to take picture of the damage.
Step 4 – Making mark or symbol on the damage areas
The sketches done must be given mark or symbol or note such as short description to represent each damage. If a printout is produced, it is good to attach a transparency on top of the picture so marks and note can be made on the transparency.
Step 5 – Storing
You can prepare a bigger envelope from mylar or mellanex to store the artefact. This type of material is acid free, clear and looks like cigarette paper. The quality however, is of higher grade. Store the artefact inside the envelope carefully. Keep it in safe place before sending it to an expert, together with the photo or sketches made.
Conservation of Photographs from 'Man and His World' 1972-73, Sulaiman Haji Esa, DR

MAN AND HIS WORLD
SULAIMAN HAJI ESA, DR
BSLN 1972.073
An installation work of art consisting of paper materials (print manuscripts, handwritings, and photographs), glass bottles, textiles, skins, and woods. For this treatment, focus on paper-based material, i.e. photos is completed. From the overall observation before the treatment, it was found that the photos artwork suffered damages to its surfaces due to stacking of this these photos with other artworks. On top of that, humidity also contributed to the problem.
To overcome this problem, three phases of treatment has been carried out: –
Dry treatment to the artwork by applying rubber powder to its front and back.
Wet treatment by applying ethanol to the surface.
Strengthening treatment using tissue paper and carbon methyl celulosa (cmc).
Upon completion of the treatment, the artwork is capsulate and stored in special box free from acid.
Prepared by :
Musrizal Mat Isa
Assistant Curator
Conservation Division
Resource Centre
Other than showcasing and assembling collection, National Art Gallery also provides Art Reference Resource Center facilities. The Centre features 4,500 books about arts of local and international publications. There are about 500 registered local artists' bio data, collection of research papers, digital news reference and a corner for discussion. In addition, five (5) internet stations are provided at a minimal charge.
NAG Resource Centre provides reference materials for visual arts from abroad for researchers and followers of visual arts. Current collection consists of those produces in early 60′s until today. In addition, biography of famous local artists and news paper cutting of local visual arts are among the treasured collection housed at the Reference Center.
The Resource Center is equipped with Internet access to facilitate information search for users. The Center is also equipped with facilities to find information via the web. The users of NAG can today access to information and conduct search form anywhere via the World Wide Web.
Visitors are welcome to visit the Resource Center to better understand visual arts. Resource Center is ready to assist you to get to know the development of visual arts locally and overseas.
To visit the full portal of the National Visual Arts Centre Resource Centre, click HERE